COVID-19 VACCINE PLANNING & SUPPORT
UIC is supporting vaccine roll-out with local expertise
While the University and its academic health enterprise, UI Health, continue to develop plans for distribution of COVID-19 vaccines, we recognize that our excellent faculty, staff and students are also being called upon to lend support and expertise to federal, state, city and local organizations requesting assistance with this public health initiative.
The Office of the Vice Chancellor for Health Affairs is facilitating UIC's coordinated review and response to meet the growing diverse requests for assistance in rolling-out COVID-19 vaccines in the months ahead. This UIC COVID-19 Vaccine Support website will collect and post information about ongoing COVID-19 vaccine efforts involving UIC faculty, staff and students.  This will help eliminate redundancy, highlight areas for collaboration, increase communication among groups, and provide a framework for evaluating UIC's response.
Any engagements with external agencies which require a signed MOU or contract may continue to be routed through existing channels; however, please log these requests using the web survey below as they will require a coordinated review by the OVCHA.  This clearinghouse is not intended for sponsored research projects.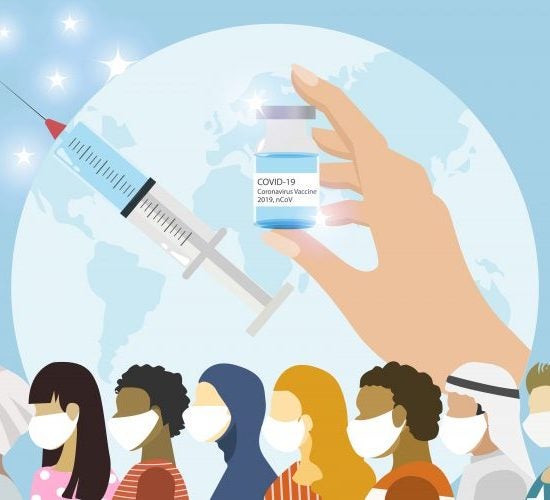 COVID-19 VACCINE SUPPORT REQUEST SURVEY
We encourage individuals from the UIC community who have received a specific request for COVID-19 vaccine support from a government or community organization to complete the brief form here or email covidvaxhelp@uic.edu.
Complete form now
CURRENT UIC VACCINE SUPPORT INITIATIVES
UIC Health Sciences Colleges Student Volunteers for Team Vaccine

CONTACT: With questions contact Angel Griffin at agriff34@uic.edu.

SUMMARY: UI Health is requesting any interested health sciences students or faculty help with our COVID-19 vaccination efforts. There are many ways to get involved, including: administration of vaccines, registration, wayfinding and monitoring.

ACTION: Below, please review the outlined specific details and volunteer needs:

UI Health Employee Health Vaccine Clinic: College of Pharmacy, Room B8

Nursing, Pharmacy, Dentistry, Medicine Students for vaccine administration
Any students to help with registration
Nursing or Pharmacy faculty to supervise students vaccinating, clinic operations

SIGN UP HERE to register as a volunteer at the Employee Health Vaccine Clinic

UI Health – Credit Union 1 Arena Vaccine Clinic: Credit Union 1 Arena
Located at 525 S. Racine, this clinic is currently seeking volunteers for Mondays and Wednesdays

Nursing, Pharmacy, Dentistry, Medicine Students for vaccine administration (Mondays, Wednesdays)
Nursing Faculty to supervise students (Mondays, Wednesdays)
Any students or non-clinical faculty, staff to assist with registration and wayfinding
Clinical faculty and registered nurses to serve as post vaccine administration monitors for high risk patients and (as necessary) administer vaccines.

SIGN UP HERE to register as a volunteer at the Credit Union 1 Arena Vaccine Clinic

Vaccine Corps Partnership (VCP)

LEAD: Associate Vice Chancellor for Population Health Sciences, Jerry Krishnan, MD, PhD

SUMMARY: In a recent report about the equitable allocation of COVID-19 vaccines, The National Academy of Medicine urged for the implementation of trustworthy vaccine-risk communication through community engagement. In response to the report, organizations in the Chicago metro area have teamed up to build partnerships with communities to form a network of trusted messengers to support COVID-19 vaccination efforts, the "vaccine corps."  These organizations are drawn from education, healthcare, philanthropy, public health departments, and workforce development fields and have joined together to align various related efforts that are already underway in support of a vaccine corps.  The vaccine corps would be trained to dispel myths, address concerns about the value and safety of the vaccine, and ultimately help people access the vaccine.

ACTION: The Vaccine Corps Partnership welcomes your perspective on the COVID-19 vaccines. You can contact the VCP to learn more by emailing: info@vaccinecorps.org and visiting www.vaccinecorps.org

The Illinois COVID-19 Pharmacy Vaccine Task Force

LEAD: UIC College of Pharmacy

SUMMARY:  The State of Illinois has developed an aggressive plan to vaccinate 80% of the residents in Illinois against COVID-19. We are playing our part to ensure safe administration of the vaccine. The UIC College of Pharmacy invited key pharmacy stakeholders from academia, professional organizations, national and regional pharmacy chains and other interested parties to participation in the Task Force. The Task Force first met on September 11, 2020 to gauge interest from key stakeholders and continues to meet twice a month. We welcome additional input and participation from pharmacy schools, organizations, pharmacy retailers, hospital pharmacies, etc. that would like to join the effort. Contact Allison Schriever at aes@uic.edu for additional information.

In an effort to assist in the State of Illinois response to COVID-19 we are gathering preliminary information about potential pharmacy volunteer workforce.

ACTION: If you would consider volunteering once a COVID-19 vaccine is available, please complete this form to Register to join the Illinois Pharmacy Response.

Increasing Demand and Likelihood of Uptake For COVID-19 Vaccine in Chicago: A Proposal for Engaged Research and Action

LEAD: Robin Mermelstein, PhD, Distinguished Professor, Psychology Department, Co-Director of the Center for Clinical and Translational Science and Director of the Institute for Health Research and Policy

SUMMARY: We propose a collaborative, multi-phase, rapid approach that engages a multidisciplinary set of faculty, staff, and students at UIC, along with community representatives and stakeholders, to develop a set of candidate messages to be deployed across the greater Chicago metropolitan area to increase intention and likelihood of seeking vaccination. Hallmarks of our approach will include an evidence-based application of knowledge in the development of messages; engagement of stakeholder representatives to help create message content and images that will resonate and motivate disparate groups; message optimization; message testing; and message dissemination and ongoing tracking and evaluation. Our timeline is ambitious: We would like to have a set of final messages to deploy by April, 2021.

ACTION: Contact Dr. Mermelstein at robinm@uic.edu.

Chicago Department of Public Health (CDPH) Student Resource Request

LEAD: Colleges of Nursing – Pharmacy

SUMMARY: The City of Chicago is exploring the use of students in health fields (nursing, pharmacy, physician associate/assistant, and/or medical) to support a SARS-CoV-s vaccination campaign. Th duration of this engagement is expected to last 6 months to achieve appropriate vaccination rates and allow full reopening of City of Chicago.

ACTION: More information will become available once contracts are put in place.
Additional COVID-19 Vaccine Resources
Additional information
Please refer to the UIC Coronavirus website for updated information from campus about the planning, prioritization, registration and distribution of COVID-19 vaccines as it becomes available in the future.  Additionally, in accordance with clinical guidance and governing bodies, COVID-19 vaccines for the Hospital & Clinics are being allocated according to current guidance. Additional information and plans will be shared to relevant parties as it becomes available.