Institute for Healthcare Improvement Open School Chapter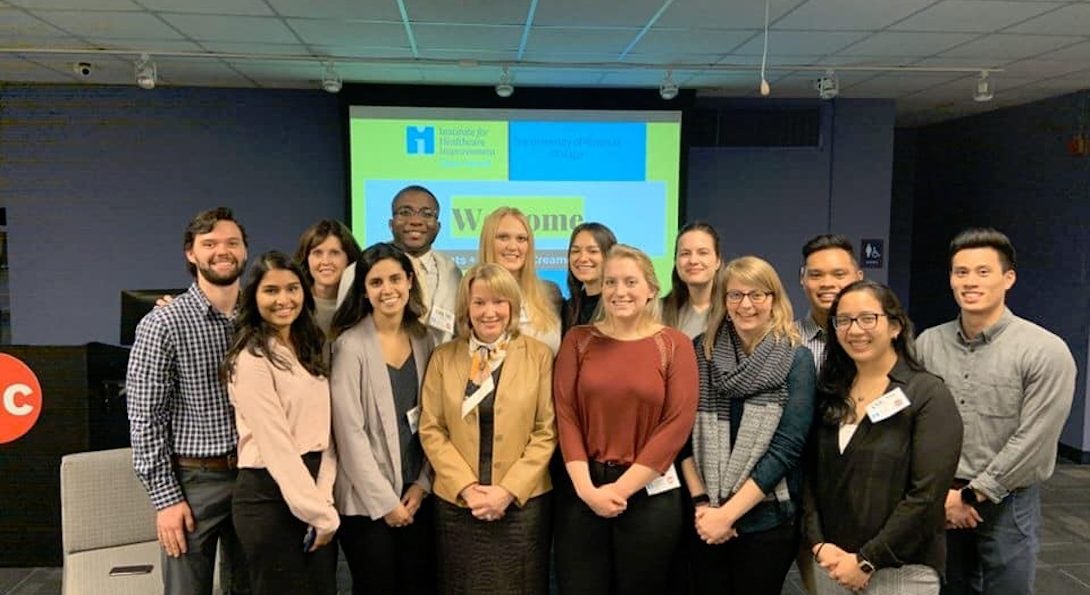 The Institute for Healthcare Improvement (IHI) Open School Chapter at UIC
Fall 2018 marked the kick-off for the brand new Institute for Healthcare Improvement (IHI) Open School student chapter at UIC. This is an interprofessional student organization focused on developing the skills, competencies, teamwork and leadership of UIC health professions students to tackle the quality and safety issues that impact our patients, health professions, and healthcare systems.
Our current leadership board has student leaders from physical therapy, occupational therapy, medicine, nursing, bioengineering, health administration, social work, public health, pharmacy, and dentistry. Our general membership spans the 7 health science colleges as well as pre-health programs on East campus.
Opportunities to get involved
Get Certified in Quality and Safety: Boost your skills and resume by taking IHI's 13 essential courses and receiving your official IHI Open School Basic Certificate in Quality and Safety.
Participate in Awesome General Body Meetings: Our chapter hosts monthly membership meetings:

Come and break bread with (or more likely pizza, yes we will feed you!) like-minded student leaders from every health profession program at UIC.
Participate in fun activities and  discussions on cutting edge patient safety, quality, and change management methods in healthcare, that build your quality improvement, interprofessional, and leadership skills, boost your resume, and get you ready to transform healthcare.
Stay to socialize and build interprofessional relationships that will sustain and support your journey in healthcare long after graduation.

Become an Interprofessional Leader: Our chapter has endless opportunities to develop your leadership skills both informally as well as through numerous formal leadership positions.
Help Build our Chapter: Help us organize fundraisers, socials, and the many events and activities our chapter is engaged in.
Attend Chapter Speaker Panels: Our chapter is dedicated to bringing national leaders in the fields of patient safety, quality, and change management as speakers and panels at least once a year. In February 2019, we will host our first interprofessional panel, featuring leadership from one of the nation's largest and most innovative health systems: Advocate-Aurora Healthcare - to explore their nationally-recognized Zero-Harm (patient safety) Initiative.
Get hands-on experience in Real-World Quality Improvement (QI) Projects: Our chapter is dedicated to identifying opportunities for qualified chapter members to apply the skills they have learnt through the IHI Open School courses to real world quality-improvement projects. We are already engaged in our first QI project, at Mile Square Health Center (Humboldt Park, Chicago):

Aim: Provide culturally sensitive patient education that is easily understandable and pertinent to the patients of the Mile Square Humboldt Park Health Center.
Current Involvement: direct patient contact with scripted surveys.
Future Involvement: Data analysis of common themes, literature review, and development of educational tools for validation by the community for which these materials are designed.

Form an Interprofessional Team to Compete in the Clarion Case Competition: The Clarion Case Competition is a renowned national interprofessional case competition that is hosted annually (in April) by the University of Minnesota:

This unique case competition is built around interprofessional teams of four students, that compete to provide the best presentation of an independently crafted solution to a complex, population based healthcare challenge.
All UIC IHI Open School Chapter members will have the opportunity to seek out and partner with UIC Chapter members from other professions to create their very own 4 member interprofessional team.
UIC will host "March Madness" prelims judged by a panel of prestigious judges to identify our UIC championship team.
Our Chapter, with the generous support of the Office of Vice Chancellor of Health Affairs, will sponsor our winning team to travel to Minnesota to compete in the nationals and the chance to win national bragging rights... and up to $7,500 in prize money!

In April 2019, the UIC IHI Open School Chapter won first place at the Clarion Case Competition! More information can be found here.
To learn more/get connected:
Contact: uicihichapter@gmail.com
Connect with us on Facebook here.
Connect with us on Instagram here.
Connect with us on LinkedIn here.
UIC IHI Open School Chapter Faculty Adviser:
Marianne L. Durham, DNP, RN, CPPS
Jennifer Wescott, OTR/L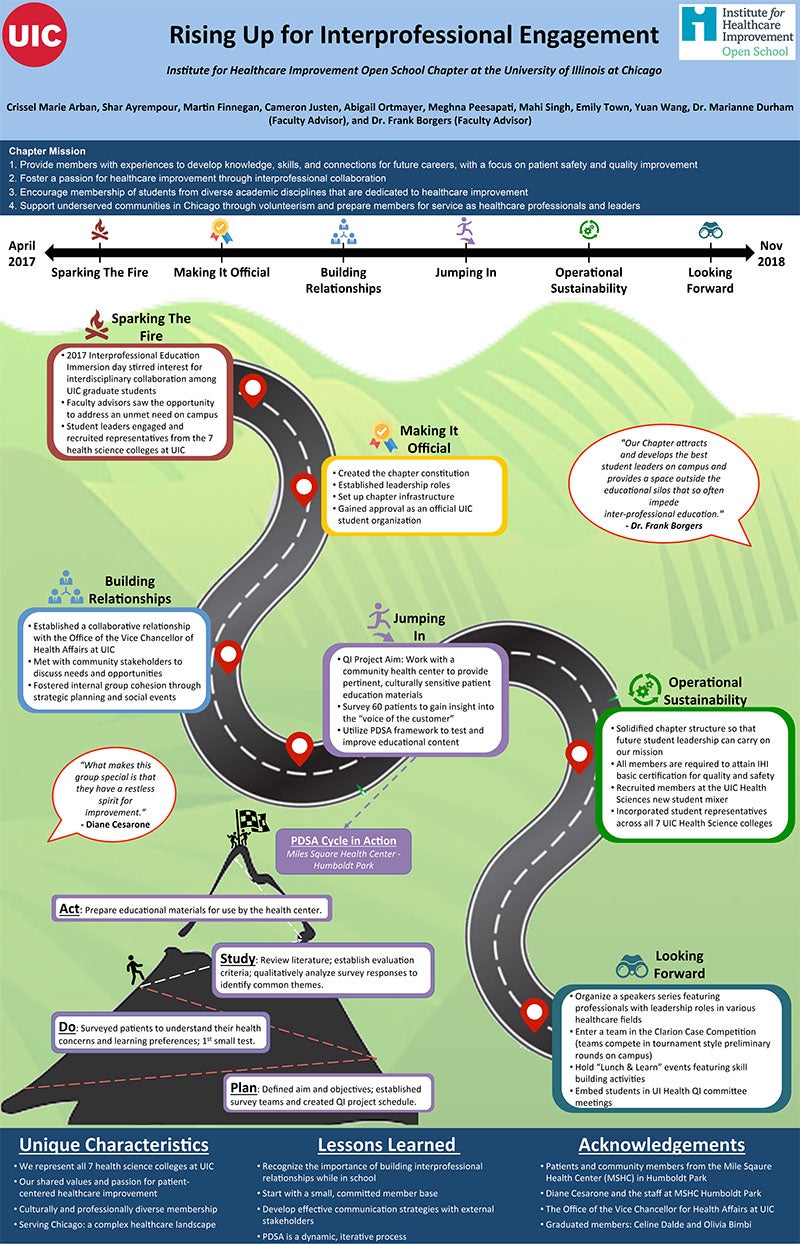 IHI Open School Chapter at the University of Illinois Chicago, "Rising Up for Interprofessional Education."