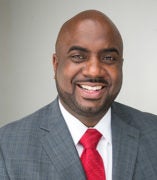 Marcus C. Betts
Assistant Vice Chancellor for External Engagement
About
Marcus Betts grew up in the North Lawndale Community on Chicago's West Side. Mr. Betts developed his tenacious work ethic early in life as he worked his way up the ladder in his family's business; Elbo's BBQ House, located in North Lawndale.
Mr. Betts currently serves as the Assistant Vice Chancellor for External Engagement at the University of Illinois Chicago. UIC is Chicago's largest and only public research university, as well as the top university recipient of Chicago Public School graduates in the City of Chicago. Mr. Betts' responsibilities have expanded to include a strategic focus on elevating and promoting the University of Illinois Hospital and Health Sciences System (UI Health). In his previous role as Senior Director for Community and Corporate Relations he directed a comprehensive program that included generating and sustaining community and corporate awareness, providing opportunities for community and corporate involvement and promoting a positive image of the University within the community. He also facilitates connections that strengthen and build partnerships while developing and maintaining key relationships with external stakeholders, associations, corporations and institutions. In his role, Mr. Betts advises UIC's senior leadership on a variety of community matters.
Mr. Betts led UIC's effort to host the Obama Presidential Center on the West Side of Chicago. He worked closely with President Obama's senior advisors, UIC senior leadership, community organizations, Mayor Rahm Emanuel and many others including elected officials, business leaders and faith leaders throughout the State of Illinois.
Mr. Betts attended St. Joseph High School and graduated from Manley Career Academy High School. He then went on to graduate from Illinois State University where he earned a Bachelor's Degree in Political Science and was also a member of the Men's Basketball Team. Mr. Betts is currently a candidate for a Master of Business Administration degree at the University of Illinois Chicago (UIC).
After a successful career in corporate America, Mr. Betts founded The Marcus Chizm Group Inc. - a Boutique Experiential Marketing Firm based in the North Lawndale community on Chicago's West Side. He has worked with some the world's top brands and has been recognized for his leadership and passion by the Chicago Sun-Times, Crain's Chicago Business and Chicago Tribune. He was also named as one of the Top 40 People under 40 and selected as one of the Men of Excellence by the Chicago Defender Newspaper.
Mr. Betts has a beautiful eleven-year-old daughter, Sophia; and in his spare time enjoys fishing, reading, traveling and is a self-proclaimed "foodie".