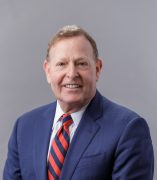 Robert A. Barish, MD, MBA
Vice Chancellor for Health Affairs; Professor of Emergency Medicine, College of Medicine
Contact
Building & Room:
Medical Center Administration (MCA) Room 101
Address:
914 S. Wood Street (MC 973)
Email:
About
Administrative Assistant:
Linda Martin
Email: martinli@uic.edu
Phone: 312-355-1607
BIOGRAPHY
Dr. Robert A. Barish, a distinguished physician and academic leader, is vice chancellor for health affairs of the University of Illinois at Chicago.
Dr. Barish oversees the University of Illinois Hospital & Health Sciences System (UI Health), which provides comprehensive care, education, and research to train healthcare leaders and foster healthy communities in Illinois and beyond. A part of the University of Illinois at Chicago (UIC), UI Health is a clinical enterprise that includes a  465-bed tertiary care hospital, 21 outpatient clinics, and 11 federally qualified Mile Square Health Center locations. With campuses in Chicago, Peoria, Quad Cities, Rockford, Springfield, and Urbana, the health system  includes the academic and research activities of the seven UIC health science colleges:  Applied Health Sciences, Dentistry, Medicine, Nursing, Pharmacy; the School of Public Health; and the Jane Addams College of Social Work. UI Health is dedicated to the pursuit of health equity.
He served as chancellor of the LSU Health Sciences Center at Shreveport from 2009 to 2015, where he provided leadership for the schools of medicine, allied health, and graduate programs; a major academic medical center; and two affiliated hospitals.
Dr. Barish spent 24 years at the University of Maryland School of Medicine. He served as chief of emergency medicine from 1985 to 1996 and built a nationally recognized program. He was named associate dean for clinical affairs in 1998 and vice dean for clinical affairs in 2005.
That same year, following the devastation of Hurricane Katrina on the Gulf Coast, Barish helped lead a medical regiment dispatched by the state of Maryland to deliver emergency care to more than 6,000 hurricane victims in Jefferson Parish.
In addition to his medical duties at Maryland, Barish earned an M.B.A. from Loyola College in 1995. From 1996 to 1998, he served as the chief executive officer of UniversityCARE, a University of Maryland physician-hospital network of family-oriented health centers located in neighborhoods throughout the Baltimore metropolitan area.
A former lieutenant colonel and flight surgeon in the Maryland Air National Guard, Barish was among a select group invited to become a NASA astronaut candidate in the early 1990s.