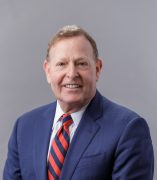 Robert A. Barish, MD, MBA
Vice Chancellor for Health Affairs; Professor of Emergency Medicine, College of Medicine
Contact
Building & Room:
Medical Center Administration (MCA) Room 101
Address:
914 S. Wood Street (MC 973)
Email:
About
Administrative Assistant:
Linda Martin
Email: martinli@uic.edu
Phone: 312-355-1607
BIOGRAPHY
A distinguished physician and academic leader, Dr. Robert A. Barish is currently the vice chancellor for health affairs of the University of Illinois Chicago.
In his current role, he oversees the University of Illinois Hospital & Health Sciences System (UI Health), which provides comprehensive care, education, and research to train healthcare leaders and foster healthy communities in Illinois and beyond. A part of the University of Illinois Chicago (UIC), UI Health comprises a clinical enterprise that includes a 455-bed tertiary care hospital, 40+ care locations, and 13 Mile Square Health Center facilities, which are Federally Qualified Health Centers. With campuses in Chicago, Peoria, Quad Cities, Rockford, Springfield, and Urbana, the health system includes the academic and research activities of UIC's seven health sciences colleges: Applied Health Sciences, Dentistry, Medicine, Nursing, Pharmacy, the School of Public Health, and the Jane Addams College of Social Work. UI Health is dedicated to the pursuit of health equity.
During the earliest days of the COVID-19 pandemic in 2020, Dr. Barish was named chair of the system-wide COVID-19 Planning and Response Team by the University of Illinois System President. This effort was established to help coordinate the system's response to the virus among the three universities and the health enterprise. UI Health has been a significant contributor to the discovery, treatment, and care of COVID-19 patients throughout our communities across the state – distributing more than 180,000 vaccinations and providing community testing locations.
In 2019, Dr. Barish received The William Cullen Bryant Award – the highest honor from his alma mater, New York Medical College. He has served as the Chair of the Board of the Association of Academic Health Centers (AAHC) since 2020. Most recently, in 2022, Dr. Barish was appointed to the Board of Directors for the Association of American Medical Colleges (AAMC).
Prior to joining UIC, Dr. Barish served as chancellor of the LSU Health Sciences Center at Shreveport from 2009 to 2015, where he provided leadership for the schools of medicine, allied health, and graduate programs, a major academic medical center, and two affiliated hospitals.
Dr. Barish spent 24 years at the University of Maryland School of Medicine. He served as chief of emergency medicine from 1985 to 1996 and built a nationally recognized program. He was named associate dean for clinical affairs in 1998 and eventually became vice dean for clinical affairs in 2005.
That same year, following the devastation of Hurricane Katrina on the Gulf Coast, Dr. Barish helped lead a medical regiment dispatched by the state of Maryland to deliver emergency care to more than 6,000 hurricane victims in Jefferson Parish.